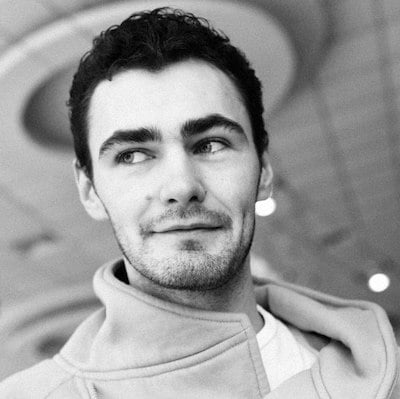 By Chris Richardson
Senior Marketing Consultant at EssayGeeks and Blogger
London, UK
 
---
Native advertising is becoming the most important marketing trend globally. With its non-disruptive approach, native advertising produces much better results than traditional ad formats. The new model is growing substantially as the research estimates that native advertising revenues are going to reach almost three-quarters of the U.S. ad market by 2021.
Consequently, we are now witnessing a continuous development of native advertising strategies, while ad solutions are becoming more creative each day. That's why in this blog post I will discuss the trends in this field and the five brightest native advertising examples of 2017.
Native advertising trends
People cannot stand traditional ads and pop-ups. According to relevant surveys, more than 86 million Americans will use ad blockers this year, which is 24% more than in the record-breaking 2016. Therefore, native ad strategists are trying to come up with new ideas on how to make their commercial messages more attractive. Here are the most expected solutions in that regard:
Virtual reality has by far the biggest potential to boost native advertising.
Mobile messaging
In the last three years, people in U.S. have been spending more online time using mobile phones (51%) than desktop computers (42%). That's why native advertising should soon step in and replace traditional marketing models, which proved to be rather unsuccessful in this field. Mobile consumers rely heavily on interaction, and native advertising can provide them with all sorts of exciting options.
VR advertising
Virtual reality has by far the biggest potential to boost native advertising. With the 360-degree video features, advertisers will gain almost endless possibilities to place their ads in a discrete and subtle manner. A case study of Vertebrae's VR initiatives shows that virtual surroundings provide natural solutions for native advertising. What can be more persuasive than something that feels almost real?

Ad as a story
Another trend of native advertising is to create more brand-centric ads but packed in a well-written story. Advertisers will not hide the brand promotion anymore, they will expose it completely. This type of honesty will attract users with its sheer simplicity and openness.
Top 5 brightest native advertising campaigns
Competition in the field of native advertising is getting stronger and more creative. We have seen the coming trends and the way advertisers will be trying to win over the buyers. There are many examples of exciting campaigns and I picked the best five among these. These campaigns successfully implemented modern principles of native advertising. Let's see what they are about and what you can learn from them.
It is fully compatible with what Airbnb is trying to give to its clients.
Travel: Airbnb with New York Times' T Brand Studio
We can hardly remember any campaign presenting local tradition and hospitality better than Airbnb did in collaboration with New York Times. It is dedicated to Ellis Island and the way that immigrants used to travel all the way to New York in a pursuit for happiness and new life.
RELATED: The top 10 examples of BuzzFeed doing native advertising
The story of this promise land leans on experiences of various immigrant families who eventually accepted the new way of life and became the true essence of New York. This native advertising campaign uses old photos and retrospective to present the charm and hospitality of one of the world's most exciting places. It is fully compatible with what Airbnb is trying to give to its clients – warm welcome wherever they go.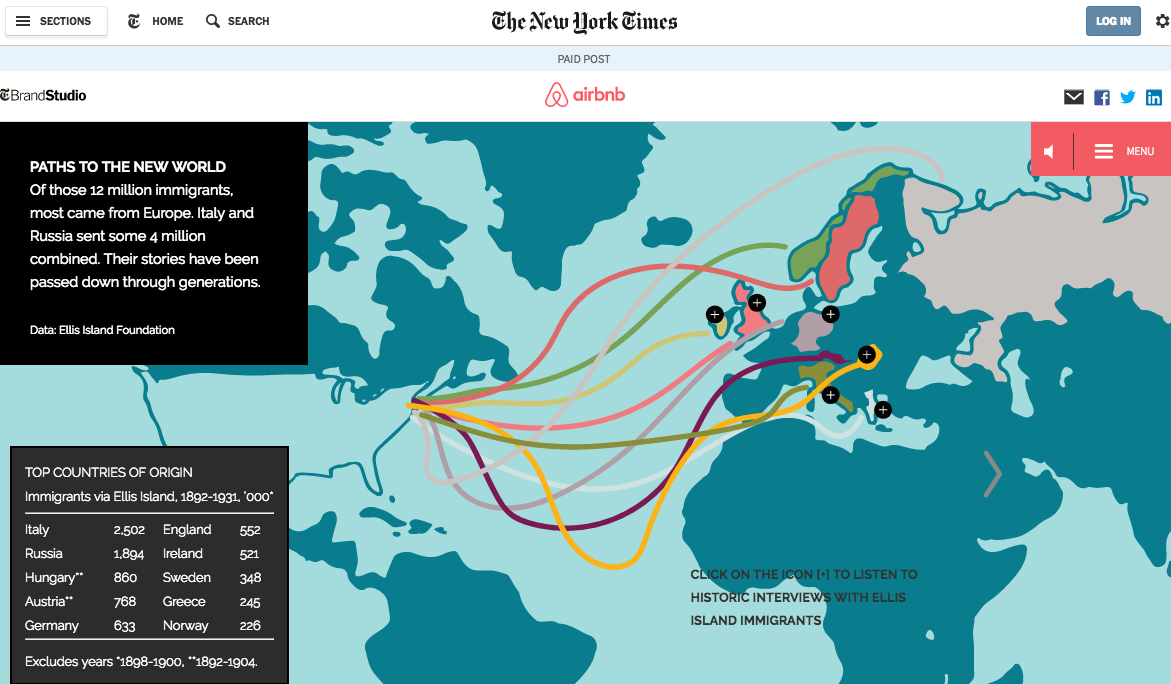 Fashion: Under Armour with Complex.com
It's always good to have a superstar in your team. The Under Armour team definitely had such superstar in the most awarded Olympian in history, Michael Phelps. However, this case study of their native advertising in The Water Diviner is a perfect example of how you can use celebrities to approach common people.

It is the story of Phelps' preparations for the Olympic Games and how he dedicates each minute of his day to get the best from himself. Just like all other people out there – minute after minute, we all do our best to stay focused and achieve our little life goals. Whether you are Michael Phelps or John Doe, Under Armour shows you that we all share the same passion towards our personal goals.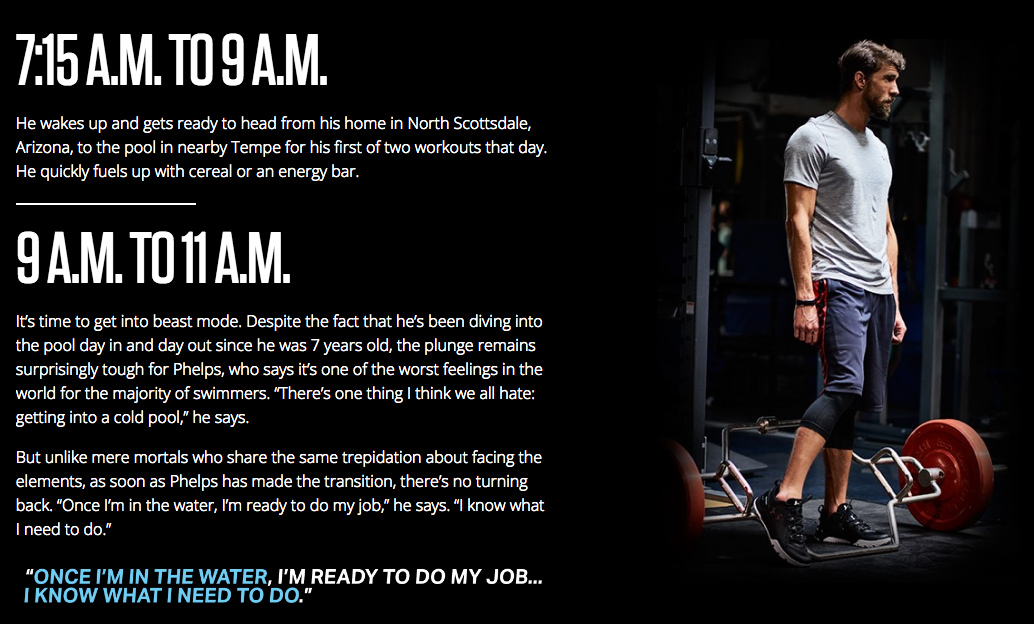 Health: Seven Seas Cod Liver Oil with The Telegraph
Here's an example of a very discrete form of sponsored content which I also believe can fall under the idea of native advertising. Company Seven Seas sponsored The Telegraph's special edition dedicated to good news and positive thinking. Yes, they have a company logo on this page but it is rather small and not so easy to notice. So what exactly is the deal here?
The secret behind this case study is that Seven Seas used the method of association.
The secret behind this case study is that Seven Seas used the method of association to transfer positive thinking from article content to company itself. Although articles don't say anything at all about the Seven Seas products, it is still very simple to associate the company with the optimistic stories on this web page. The moral behind this case study? You don't need direct advertising to praise the brand.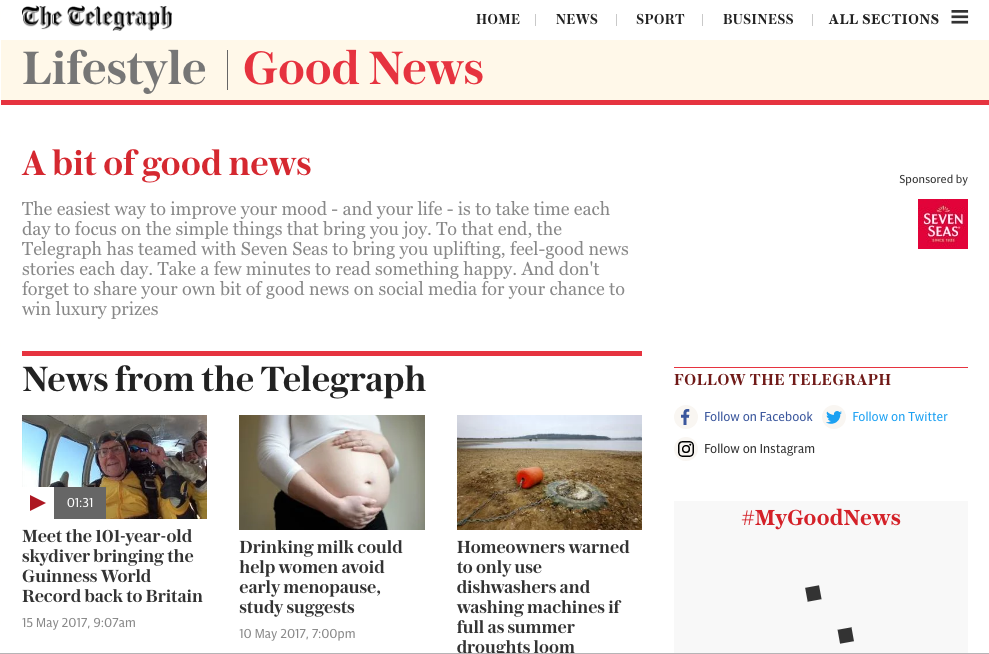 Entertainment: The Mindy Project with Apartment Therapy
If you ever wondered how the scenery from your favorite show really looks like, don't miss The Mindy Project on Apartment Therapy. It reveals even the smallest details from the main character's bedroom.
RELATED: 5 Fantastic Native Advertising Examples For a Young Audience
That's exactly what the audience needs – it doesn't matter that the advertising is obvious as it brings additional series content to consumers. Users can take the closest look into Mindy's extravagant apartment through this campaign.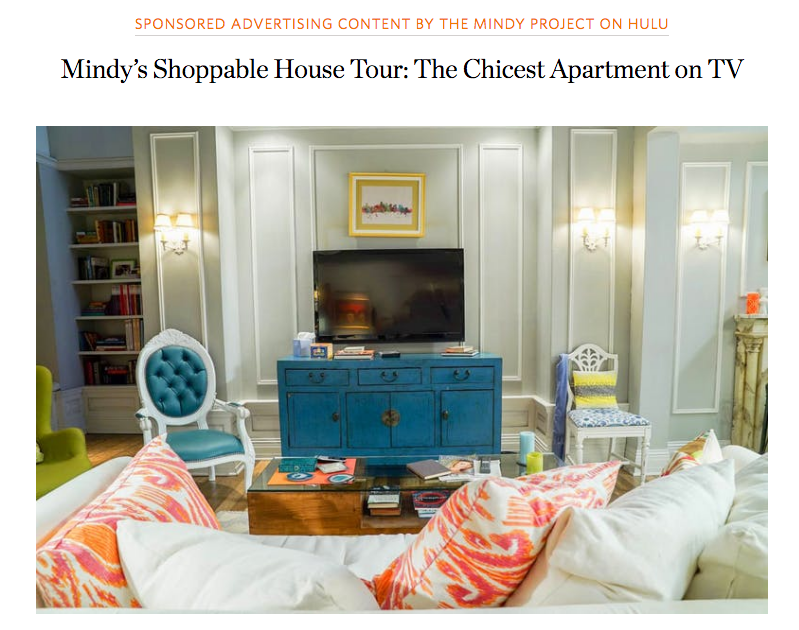 Native advertising has numerous comparative advantages over traditional ad forms. With its creative potential and the overlapping with standardized online content, native advertising is expected to grow steadily in the coming years. We gave you an overview of the latest trends in this field as well as the 4 most interesting case studies. Feel free to analyze it and learn about native advertising features and peculiarities.
Be inspired – download 'Award Winning Native Advertising Examples 2017'