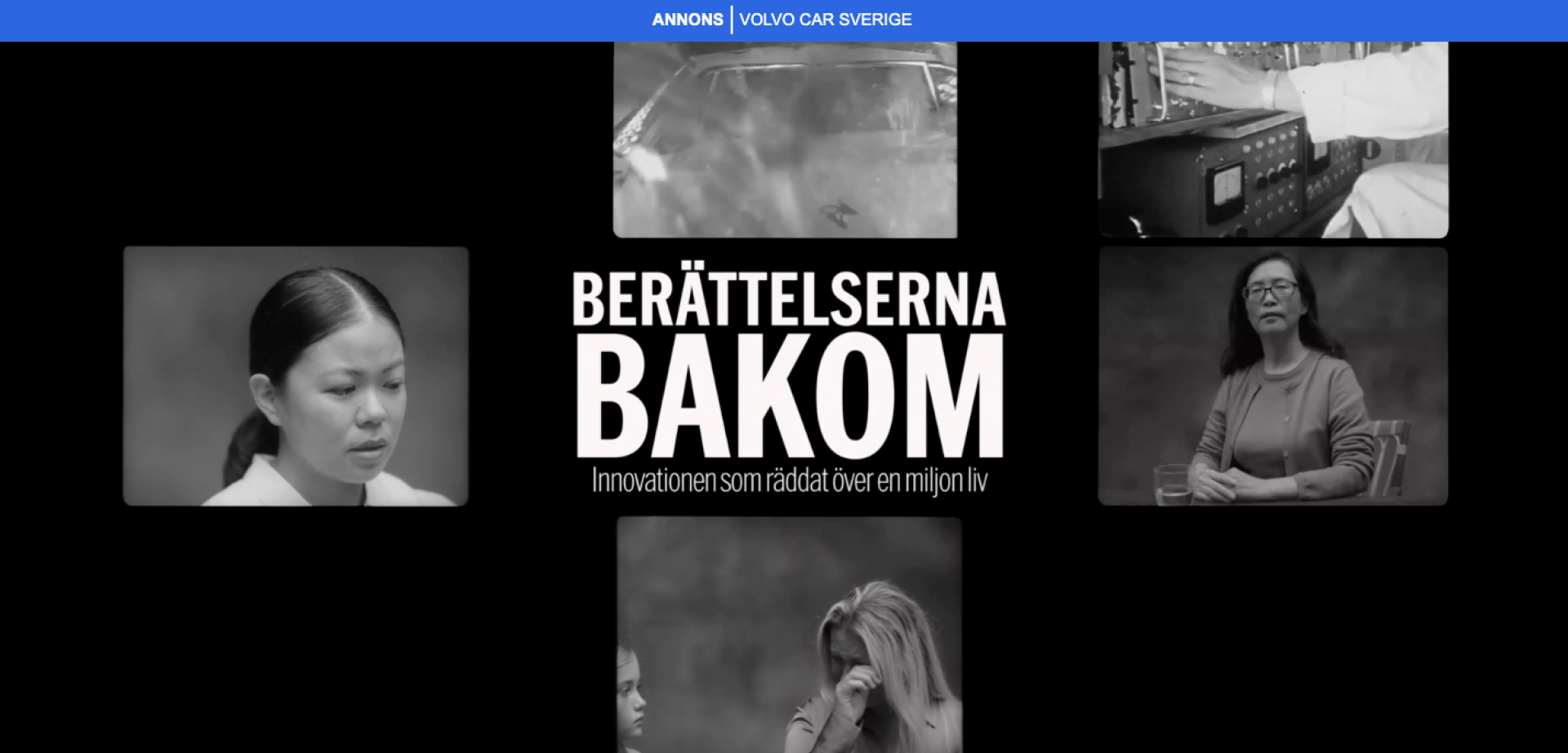 Goals and objectives
How do you make a statement about safety that grasps the Swedish audience?
How do you create an high end-environment for emotional videos with an important message?
How do you boost time spent and view through for video content on a buzzy news site?
With the campaign "A million More", Volvo presented Schibsted Brand Studio with a challenging brief.
Our answer? A brand new story platform, developed for a new kind of experience on Schibsted's publicistic brands, with tailor made solutions to put motion storytelling in the fore front.
Volvo's focus on security is internationally recognized since many years.
And the work to create a safer car ride, is not only about selling more cars. It singles down to a true passion for taking responsibility, changing the entire car industry and contributing to a better world – both inside and outside the car.
In 1959, Volvo was the first car manufacturer in the world to introduce the three-point belt in its cars.
Since then, that invention has saved a million lives.
Today, Volvo is implementing a whole new level of security in their cars – aiming to save a million more lives in the future.
The campaign "A million more" tells the story of the safety inventions in the most obvious and direct way there is:
Through the words of ordinary people who survived a car crash.
KPI's
Together with agency Forsman&Bodenfors, Volvo had created videos with survivors of car crashes.
There were multiple outtakes, where different channels and outputs were used, both within Schibsted and elsewhere.
But an important part was the longer versions with each survivor – and the goal was to generate as much focus on the videos, in a digital environment that aligned with Volvo's premium brand, as well as the visual look and feel of the videos.
Volvo wanted to activate the videos in the most creative and efficient way possible, combined with a massive reach.
The overall purpose with the campaign was to emphasise that Volvo is the industry leader regarding safety and that Volvo always has – and always will – be driven by safety and a ongoing strive to improve safety for everyone. Within the car, and outside.
The KPI:s was
Ad recall
Brand lift
Completed view (of the videos)
Target audience
The desired target audience was very broad: all 25-64 years.
Strategic approach
There were multiple KPI:s and parameters that needed to be taken into account.
Firstly, Schibsted's strategy was to create a visual approach that aligned with the look and feel in the videos. At the same time, we need to add context and a news worthy angle to ensure that the teasers on the front pages – as well as the long read itself – was perceived as relevant on the news site where they were distributed.
It was also important to create an experience that aligned with Volvo's own brand identity as a premium car brand.
Given all above, we decided to use a brand new long read format developed within Schibsted, focusing on enhancing the video experience.
We created a unique video header, created short text snippets that user could walk through and control.
We chose to keep the text short, to put the videos in focus.
At the same time, we put a lot of efforts into creating teasers on the front pages that generated stop effect and interest.
Since one of the KPI:s were Ad Recall, a noise free and clean environment was important.
We made the overall theme black, to align with the visual expression on the videos, and add a premium look and feel to the story.
Channels used
To fully penetrate the broad target audience, and deliver on the wish for great impact, we created three different versions of the long read.
They were published on:
Aftonbladet – Scandinavia's largest news site. This was the primary channel in the campaign, since the story format initially was developed for Aftonbladet and the users of Aftonbladet are used to consume video.
Svenska Dagbladet - a prominent morning paper, Sweden's second largest.
Omni - fast growing news service, with extra high affinity in the largest cities.
Content distribution and promotion efforts
Distribution was chosen in order to achieve best possible reach and engagement. Making sure to reach the target audience by engaging them in the concept, the brand and in Volvo.
Campaign results, ROI, and efficiency
The campaign performed extremely well.
Target guarantee of readers/viewers over delivered by 139%
Benchmark on exit link is 0,50% - these stories delivered 0,65%
Video content on Aftonbladet has an average view through rate* of 80%
To be compared to benchmark of 60% (!)
The guaranteed amount of views was set to 50 000.
But the campaign delivered 69 690 views in total.
The campaign was also measured by Schibsted's Insight Department, with striking results:
Brand Awareness: +8,4 % (bench automotive car brands: 2,8%)
Consideration: +4,2 % (bench: 3,1%)
Preference: +11,4% (bench: 2,2%)
Action intention: +2,9% (bench 1,5%)
The display and online video-formats also gave lifts in all of the above KPI:s – but not even close to the results we saw on the native story measurement.
Native rocks :-)
Anna Norlander, campaign manager, Volvo Cars:
"We often turn to Schibsted for various native solutions because we know that they deliver great creative campaigns and we feel confident that they manage our content in the right way. This time too, the campaign gave great reach to the target group and high commitment. The collaboration between us, the agencies and Schibsted works excellently, which is also important for choosing a partner."
Helene Öberg, Client Manager, Mindshare:
"We see Schibsted as a priority partner when it comes to native collaborations. We know that they manage the assignment well and that we get good results on the campaigns; they are responsive to the customer's wishes without sacrificing their editorial integrity.
A well-functioning collaboration with great creative solutions means that we are happy to return. "