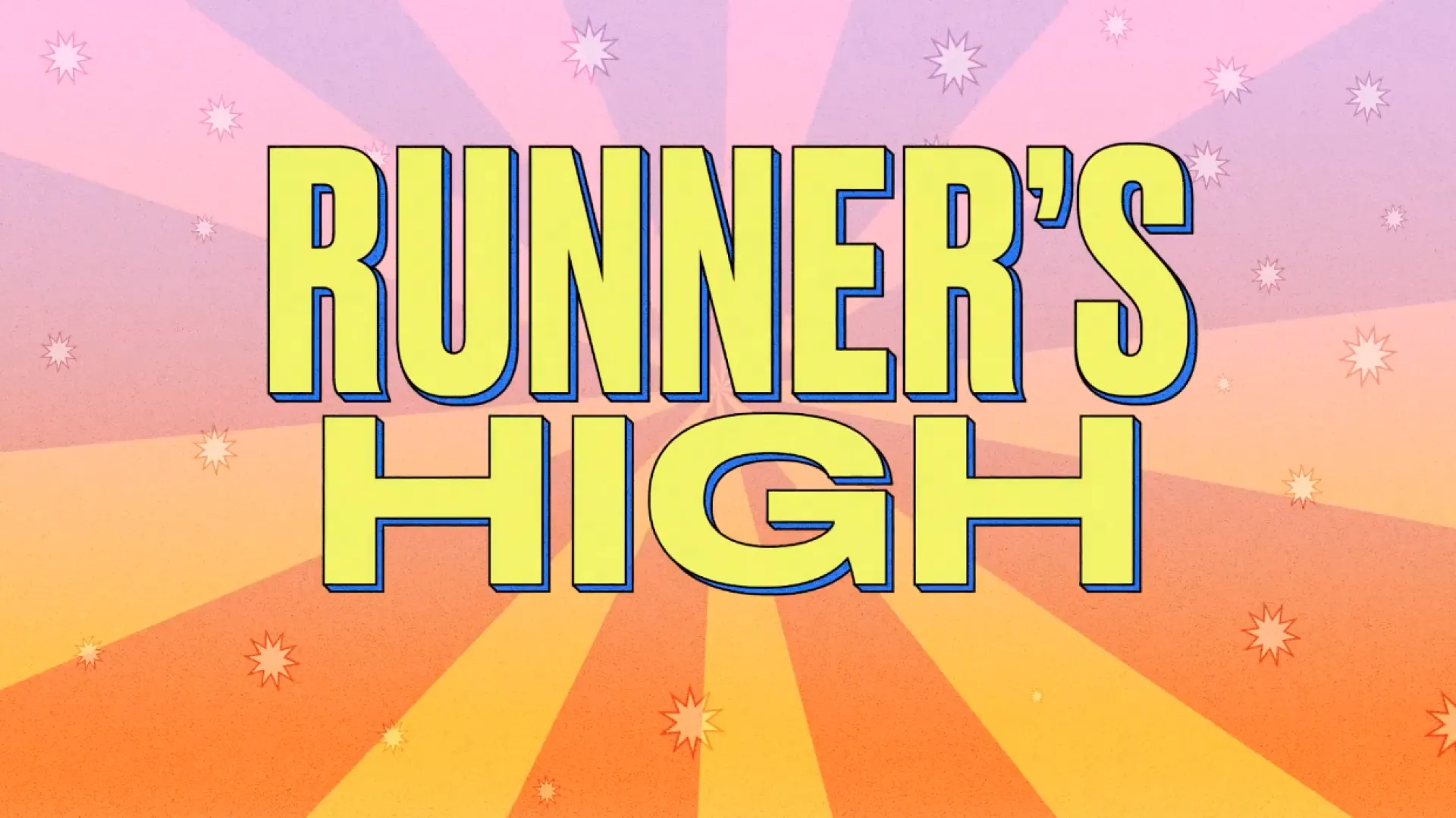 Goals and objectives
During Covid-19, there was tremendous growth in running. To reach an audience with a wide range of experience and knowledge about running, Vox Creative took inspiration from Vox.com's hugely successful Explainer franchise, exemplified by Netflix's Explained and top-ranked podcast Today, Explained. The goal was to explore running in-depth in hopes of discovering surprising angles that would leave audiences with clear takeaways, going far beyond product reviews or celebrity endorsements. To that end, we asked big questions: How have humans evolved for running? What happens in our brains when we run? Is running an inclusive activity? As part of the "On Running Campaign," Vox Creative produced a three-part video series that feeds the runners of the world with the insights they crave, using athletes and experts to dive deep into the story. These captivating videos go beyond the product itself and thoughtfully explain the meaning behind running and drove massive awareness and engagement among the broad target audience.
KPI's
Brand awareness in the crowded running shoe market
Video Completion Rate
Brand lift with core running audience
Target audience
Outdoor Activity Enthusiasts - runners and hikers are the core.
Culture Seekers- those who are out and exploring their urban surroundings, i.e. walking to shows, museums, galleries, etc.
Strategic approach
On Running looked to expand its literal footprint in the US and increase brand favorability across a wide audience. To differentiate their brand, they were looking for content that went beyond reviews and endorsements and to get people interested in running and running with them. To achieve this goal, they sought a partner with a trusted voice that could grab consumers' attention. With Vox Media reaching 10.9 million runners (per Comscore), Vox made for the perfect editorial network to help the brand showcase unexpected but relevant story topics while allowing for significant reach against the target audience.
The series of three videos, each running 4 to 5 minutes long, was created by Vox Creative's award-winning Explainer Studio. Vox Creative launched The Explainer Studio to create Explainers for advertising partners and uses the same formula that drives Vox's explanatory journalism: identify a subject that the audience is curious about, bring deep research to light, and seamlessly weave in the brand. With this campaign, that meant taking three radically different angles, all of which looked at core underlying principles regarding the culture and science of running. Each Explainer video features the client's product in action, but in exciting, diverse ways - from social issue documentary ("Running While Black") to professionals in action ("Runner's High") to slow motion footage ("The anatomy of running"). The videos showcase runners outside of stereotypical images: parasport runners, Black community groups, pregnant runners, and more. In providing further depth to our storytelling, we paired those firsthand stories with experts on physiology and evolutionary biology. With their willingness to address social issues, literal chemistry, and physiology, On Running was the perfect partner for the deep dives that Explainer videos are known for.
Creative idea
The creative process began by stepping back from the brand and product. We started with the biggest questions we could – what can running mean? What does it mean to be a "runner" (and who makes those decisions?) Why do people run? With questions that varied, there would never be one answer or one approach. So as we narrowed our focus and tightened our questions, we made sure to keep the way we would answer the questions varied.
That meant featuring an incredibly wide range of people in the videos: parasport runners, Black community running groups, pregnant runners, and more. But we needed to go beyond the "who" and into the "how." We made sure to employ a wide range of tools in storytelling: everything from firsthand documentary profiles to animated sequences to extreme slow-motion video capture.
By starting from fundamental questions about running, actively seeking a diverse range of people to answer them, and intentionally mixing visual styles, the campaign went beyond a product focus to instead build the image of On as an inclusive, curious, and challenging brand.
Image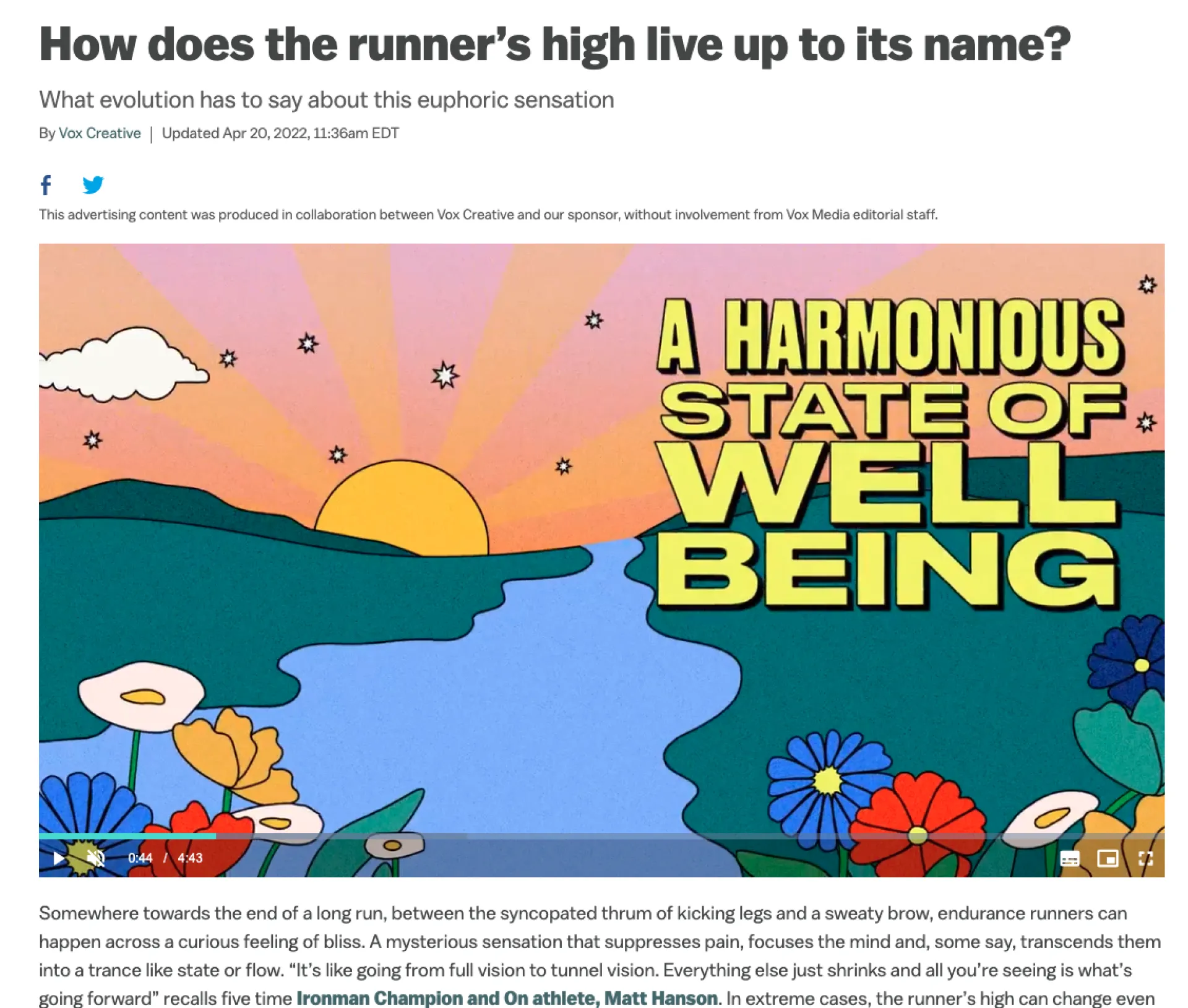 Channels used
On-site distribution within the Vox Media network, targeting a running and culture-focused audience.
Site-based distribution within the Concert Network, a Vox Media-created ecosystem of reputable publishers that allows for targeted advertising on trusted sites at scale.
Mention across Vox Media's editorial networks' social media platforms (Facebook and Instagram)
Organic Distribution on Vox.com's YouTube Channel.
Content distribution and promotion efforts
Custom content was distributed to contextually align with relevant audiences and content via Vox Media's custom, high-impact Athena units, which ran across Vox Media and on the Concert network. (Concert, founded by Vox Media in 2016, is an ad marketplace made up of the world's most premium publishers.) For our native distribution we A/B tested headlines to ensure ongoing optimization as we drove traffic to the custom article pages. Each custom video had its own landing page on Vox.com. These videos live natively within the editorial look/ feel of the given site and On Running had 100% SOV of the page during the flight. Users can then click out from the On Running branding on-page directly to the On Running site or destination of choice.
Campaign results, ROI, and efficiency
The primary metric of success on the videos was VCR, and the content rocked the 4+ min VCR benchmark. Users on the content page were deeply engaged, with 1 in 5 completing the full videos, especially impressive considering that each video was at least 4 minutes long. VCRs for each video were 2.5x the benchmark.
The following are results from a db5 brand study:
The partnership successfully drove significant lifts in a majority of metrics throughout the funnel, with the highest lifts in Brand Recommendation (+17%) and Brand Consideration (+10%).
Over 3 in 4 exposed respondents learned something new from the ad
Over half of the respondents gave the content a very positive or excellent rating.
Users on the content page were deeply engaged, with 1 in 5 completing the full videos, with video lengths ranging from 4-5 minutes. VCRs for each video were 2.5x the benchmark