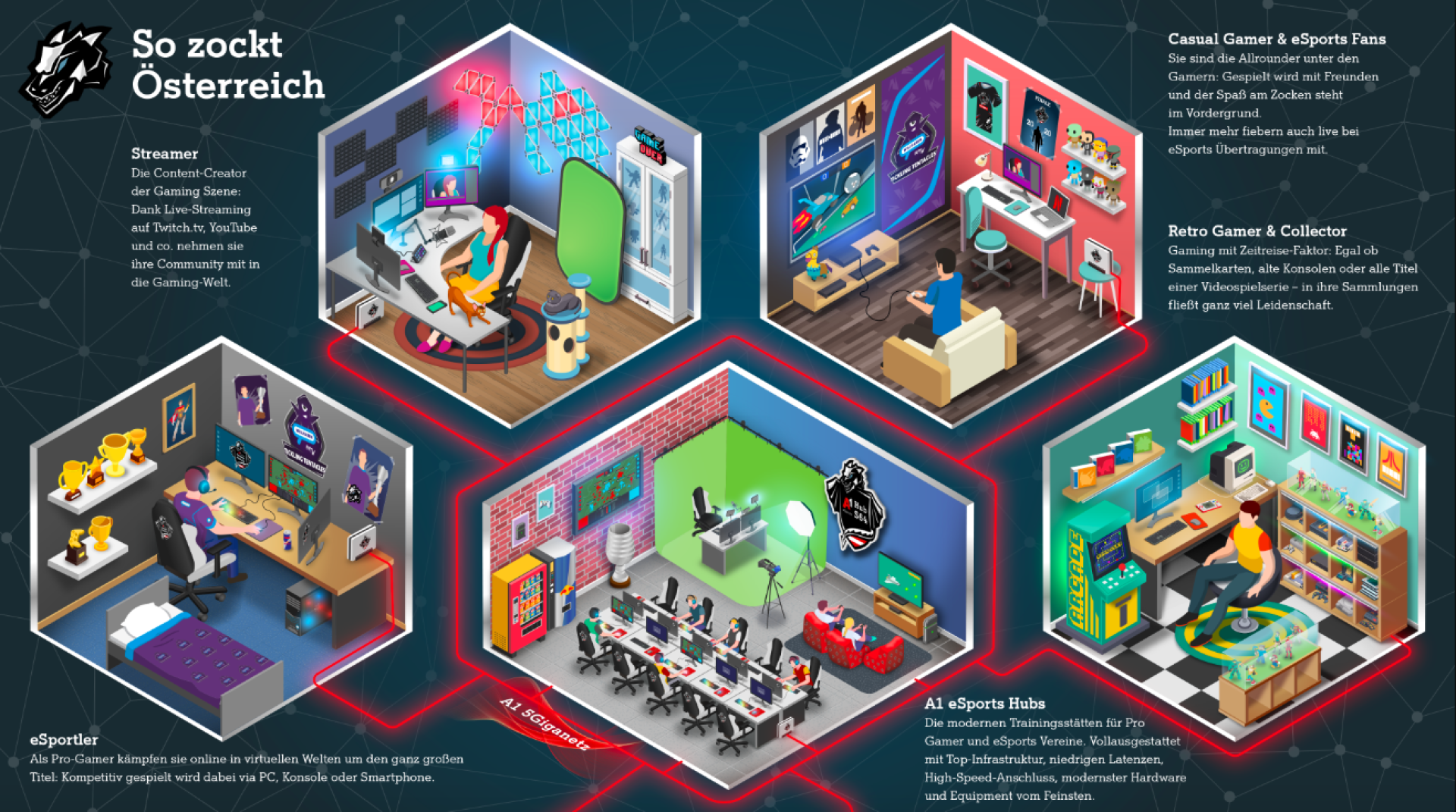 Goals and objectives
Gaming and eSports have become an integral part of today's entertainment world. This billion-euro global business has been enjoying strong growth in Austria, too, for several years now. Thanks to increasingly powerful terminal equipment and ever faster internet performance, almost every Austrian can now play actively or follow eSports events and broadcasts. But these two areas are still new to many people.
The A1 eSports infographics are designed to provide the media, business and the gaming world with a tool with which the worlds of gaming and eSports can be explained clearly and simply – both in their entirety as well as in detail.
KPI's
Estimated at some 130,000 impressions per infographic online, the reach was also compelling (paid and organic in total).
Target audience
Media, eSports business, the gamer scene, anyone interested in eSports.
Strategic approach
To begin with, for A1 it was about using the actual event "A1 eSports Spring Finals 2020" to illustrate how the A1 eSports Finals work to bring the eSports eco-system closer to anyone who otherwise does not come into contact with or has never heard of it. A1 wanted a modern, authentic and clear graphic that fully illustrates an eSports event.
A1 received brilliant feedback from the gamer scene and was thrilled as well about the success of the first eSports infographic. So they immediately started planning new infographics with us.
The new infographic should be about the different gaming rooms of the various gamer archetypes: Gamers in Austria. One step further – this time the idea was to actively involve the gamer scene.
Creative idea
For the second eSports Infographic A1 teamed up with HUAWEI to search for the coolest gaming room in Austria, calling for people to post or send photos of their gaming room at home and thus take part in the prize game. Typical elements from the TOP 30 entries were then incorporated into the gaming room infographic. This ensured that the gaming rooms are indeed similar to their real-life counterparts. Our new infographic on was thus created with elements of the images, moods and photos of the gaming room setups of Austria's gamers.
Despite the seemingly compact and clear presentation of the rooms, we have also included amusing minutiae and stereotypes. We show them so as to be authentic and accurate. This is the only way to establish exactly who the gamer archetypes are and how they differ from one another.
The underlying idea is to look into the gamer scene in a little more detail and – using a discreetly original, sometimes almost self-deprecating approach – offer the reader and viewer (newcomers to the scene AND insiders) the chance to identify. True to the motto: "We know you ... In fact, we're like it ourselves ..." This creates identity, arouses emotions, connects and strengthens the community.
Content distribution and promotion efforts
Both infographics are being used for information and explanations about the A1 eSports worlds (internal and external).
Use of the first A1 eSports Spring Finals graphic in OE24TV interview by Marco Harfmann (Director Transformation & Marketing Communications at A1 Telekom Austria AG)
Campaign results, ROI, and efficiency
Feedback was overwhelming! Experts from the eSports scene expressed their appreciation for the complex and accurate realisation. They also appreciate the humour and the discreetly self-deprecating, authentic manner of presentation. It is regarded as extremely apt, contemporary – as a benchmark in this field.
"The infographics are a useful tool for explaining the world of eSports in all its versatility in an understandable and simple way." Mag. Stefan Baloh, President of the eSport Verband Österreich [Austrian eSports association]
Estimated at some 130,000 impressions per infographic online, the reach was also compelling (paid and organic in total).
The graphic was also EXTREMELY well received by the customer, by the A1 Management eSports:
"The eSports world is not always easy for outsiders to understand. What's a streamer, what's a casual gamer? We have summarised these terms and many more in a quick and easily understandable manner in the 'Gamers in Austria' infographic." Marco Harfmann, A1 Director Transformation & Marketing Communications A1 Telekom Austria AG
The A1 eSports – Gamers in Austria infographic caused a stir across national borders, too – A1 Croatia has also requested it.