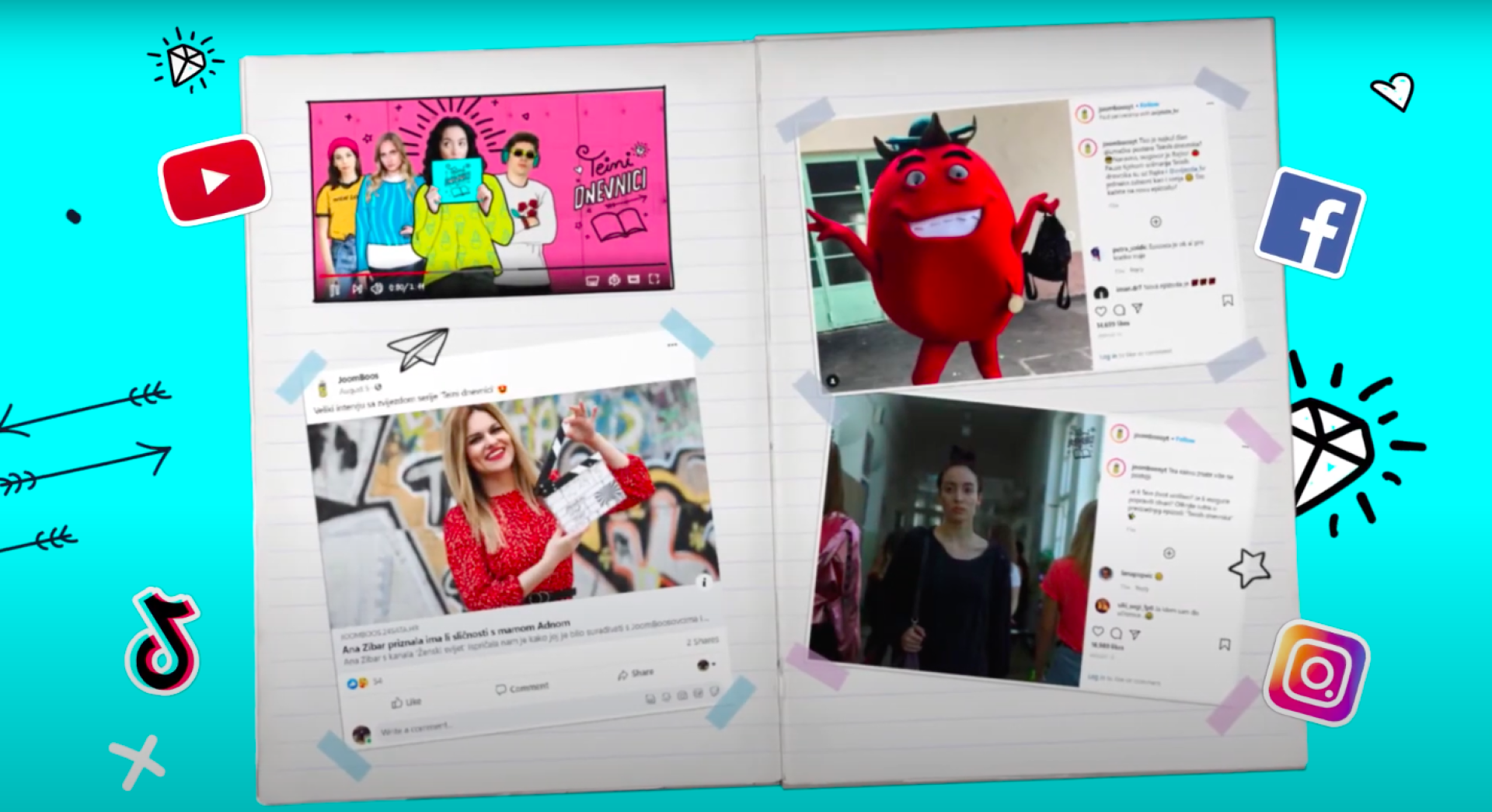 Goals and objectives
Capturing the attention of Gen Z has become increasingly more difficult. So, when Zvijezda, one of the most long-lasting Croatian food brands, approached us with an aim to connect with the young audience and create brand awareness, we knew we had to come up with something truly eye-catching in order to grab their attention.
What is so hard about creating content for Gen Z? This audience has become even more selective in the way they consume content and it's not easy to assume what's 'hot' for them right now. We needed to stand out from the 'already seen' formats, concepts, and stories – a common problem for most content creators.
So, for this job we chose their favorite online platform - YouTube, their favorite online brand - JoomBoos and the format they already know and love - YouTube series. We launched Tea's Diaries.
In order to create brand awareness, it was necessary to spice up the known facts a bit. What did we do differently? We changed our approach to storytelling by switching to Gen Z lingo, we have brought the quality of production to an even higher level and decided to cover topics that are extremely relatable to Gen Z.
On top of that, instead of classic product placement, we integrated a special character, who represented the brand, as part of the cast. A completely unobtrusive and innovative way of client integration into content. We hit a home run.
KPI's
In order to achieve our goal of creating a piece of content that will have Gen Z glued to their screens, we set our expectations higher than usual guarantees for similar projects. We were also guided by the growth of the use of digital channels in Croatia among all age groups, caused by lockdown in previous months.
With 250.000 views per episode or 2.250.000 in total (including cover song), 225.000 engagements in total, and watch-time at least 20% higher than the channel's average we committed ourselves to make Tea's Diaries a smashing hit.
Target audience
We all know that, but it is not out of place to repeat it once more – young people from 13 to 21 are the truly full digital generation. They spend most of their time behind screens, browsing through different content and platforms, rapidly taking all of it in. They are fast when it comes to scrolling and finding content but also in creating an attitude towards the brands and content they consume. They are very selective in terms of content and they want to see something they can easily relate to and share it with their friends who are all going through similar things. We decided to be 'the ones' with Tea's Diaries and create content that will resonate very well among the target audience.
Strategic approach
There were a few strategic moves that brought great success to Tea's Diaries. We knew 2020 was a difficult year that affected every part of our lives, but it surely hit hard on the emotions of younger generations. They are usually always on the move and most of their social interactions are happening in the school hallways, in the classrooms, or around the school. And even though one would say kids enjoy the sound of the bell that marks the end of class, they reeeally missed school and everything related to school once it was switched to an online environment.
We used that insight and decided to create a YouTube series based on the story of a schoolgirl Tea. Also, in order to grab the attention of the generation Z and create awareness, we crafted the content and made it very relatable by talking about common school situations, told in Gen Z lingo. All of that with a strong focus on all of our digital channels, where Gen Z is. And of course, video – he's the king.
Creative idea
A GOOD STORY BRINGS THE GLORY
Through the character of an ordinary teenage girl, in all eight episodes, we covered all the relevant topics Gen Z was usually facing in school – from peer pressure, hostile friends, first love relationships, social media status and popularity, cyber-bullying, and many more. We honestly displayed both positive and sensitive topics that won the heart of Gen Z.
FORMAT APPROVED BY AUDIENCE
The YouTube series isn't exactly a new concept for JoomBoos' audience, but that tested format was exactly what we needed. We knew the young audience loved our previous works, so we once again used verified format and used its' magic. By delivering exciting endings and an intense presence on all digital channels between the series, we boosted the hype for every next episode and created a habit of waiting for the weekly release.
PRODUCTION ON A NEW LEVEL
One of the important pillars of creating this series was an even bigger focus on video production quality. This was accomplished by hiring young and up-and-coming professional actors for the key roles as well as having a professional director and screenwriter behind the cameras – experts who are the perfect fit for bringing persuasiveness to the story.
SONG COVER
Music is one of the most important things in the life of many of our target audience. Whether they listen to it for fun, share it with friends, dance to it on TikTok or Instagram, etc. We were also aware of the fact that one of the recognizable features of each series is the title track, so we also created one that is quality and memorable. It was performed by a popular Serbian YouTuber and it very quickly became a hit among Gen Z.
Channels used
Aware of the fact that Gen Z loves and lives digital, we 'fired' from all the guns. Digital guns, that is. JoomBoos is the biggest YouTube network in the region and YouTube is the most significant platform for Gen Z, so naturally, our focus was on JoomBoos' YouTube channel for publishing the series.
Tea's Diaries was present on every JoomBoos digital channel, but our focus was on the hottest Gen Z platform - YouTube. Building upon the success of YouTube videos, we created additional pieces of content for Instagram, Facebook, TikTok, and a JoomBoos website in which we gave a deeper insight into the main characters - both their personal and life in the series, relationships and happenings within the episodes. Our social media extensions included a series of episode clips, interactive formats such as quizzes, and content published before and after every episode. That way we were able to create buzz for each episode. With a huge amount of UGC Tea's Diaries was undoubtedly a regional hit.
Content distribution and promotion efforts
YouTube was the central station for our series and we also used all its' power. We've decided to collaborate with one of the most popular female YouTubers in the region - Anna Lazarević, and create a cover song that would best describe what our fans can expect from the series. The song became an instant hit, raising awareness and hype for Tea's Diaries through the roof.
This was the first-time influencers weren't used as a key element to promote a new episode, but rather as an excellent addition. All the actors and influencers shared behind-the-scenes content which aroused curiosity among fans who couldn't wait for the new episode to go live.
Actors and influencers were heavily featured in JoomBoos Videostar magazine as well. Posters, quizzes, interviews, and little-known facts about the series gave the fans new things to talk about.
Campaign results, ROI, and efficiency
Tea's Diaries became a hot topic on all JoomBoos social media channels from episode one. Thursday was the launch day for every episode in the series and the audience eagerly waited for every single one.
Results in numbers:
8 episodes and one hit cover song
7,3 million total video views (average of 800.000+ views per episode)
56,5 years was the total watch time and it is 78,24% better watch time (compared to the channel's average)
549,403 total engagement on all social media channels
Every episode of the series was in TOP 5 in YouTube Trending in every Adriatic country.
Apart from 8 exciting episodes, we also launched the cover song which became an instant Gen Z hit, and in the first days of December has over 3 million views.
And a cherry on top is the fact that the most-watched episode of Tea's Diaries was watched by 61% more viewers categorized as Gen Z compared to the most-watched show among all Croatian TV channels in 2020 so far, approved by Nielsen company.
Campaign Learnings
Tea's Diaries was created with a clear goal of captivating Gen Z and making them fall in love with the content and everything around it. We decided to go with a well-established format adapted to digital media and content consumption.
Our shift in the mindset of using exclusively influencers for creating and promoting the series turned out to be a great call. Not only did we create a loyal fan base, but they became one of the most valuable assets in the promotion and sharing the word about Tea's Diaries.
Using Anna, one of the most popular Serbian YouTubers, was the right step that helped us to go beyond the borders of Croatia and drive the region crazy. We have successfully spread the buzz about the series throughout the region and the results speak for themselves.